Why You Should be Seen by a Chiropractor after an Auto Accident
Why You Should be Seen by a Chiropractor after an Auto Accident
Written By Smith Chiropractic on September 7, 2021
---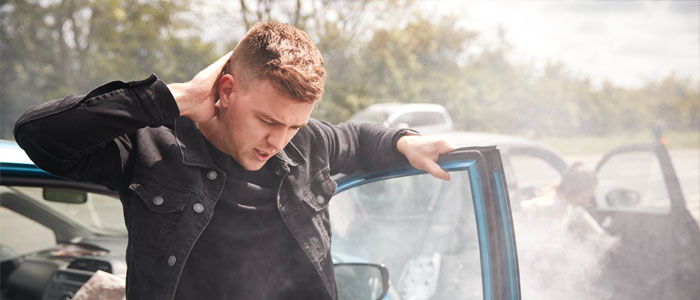 Unfortunately, auto accidents are a common occurrence in Colorado and often result in injuries for those involved. If you have been in a car crash, the impact you experienced has the potential to negatively affect your body. One of the most frequent issues that this can cause is misalignment of the vertebrae and other joints.
Whether you are experiencing symptoms or not, it is important that you get checked for any injuries after a car accident. Whether you hurt your back, neck, shoulder, or knee in a vehicle accident, our chiropractors at Smith Chiropractic can help you heal and recover.
The Process of Chiropractic Treatment After a Car Accident
If you've been injured in a vehicle accident, you may be experiencing pain and stiffness. While pain relieving medication can ease these symptoms, chiropractic care can help correct any skeletal issues that may be contributing to your problems.
A common finding after a crash is that your neck is uncomfortable and stiff, especially when you try to tilt your head side to side in its usual range of motion. This occurs because your muscles are strained beyond their usual range and stretch or tear as a result of a whiplash injury. When the muscles are damaged and can't support the neck as well as they should, it might cause vertebral instability.
At Smith Chiropractic, Dr. Ammon Jacobson and Dr. Robert Spackman are well versed in caring for injured patients and can help you heal whether your accident occurred last week or last year. During your first appointment, they will examine you and ask questions to identify the location and cause of your symptoms.
They may focus on your neck and back to identify any misalignments in your spine, then gently adjust the vertebrae back into place. To restore blood flow to the region and help your muscles heal, the doctors will use a range of methods, including massage, laser therapy, and more, to treat the supporting muscles. While they are experienced in treating back issues, Drs. Jacobson and Spackman heal the whole body with their chiropractic treatments.
Book An Appointment for Auto Injury Treatment in Colorado Springs
After a vehicle accident, personalized care with a team of experts dedicated to your healing and rehabilitation can help get you back to optimal health. Smith Chiropractic in Colorado Springs has been serving Colorado Springs since 1991 and both Drs. Jacobson and Spackman have years of experience in treating car accident victims. Call (719) 390-5404 or schedule an appointment online today!

Posted In: Auto Injury Treatment Chiropractic Whiplash Treatment Car Accident