Low Back Pain Treatment with Chiropractic Care
Low Back Pain Treatment with Chiropractic Care
Written By Smith Chiropractic on December 7, 2018
---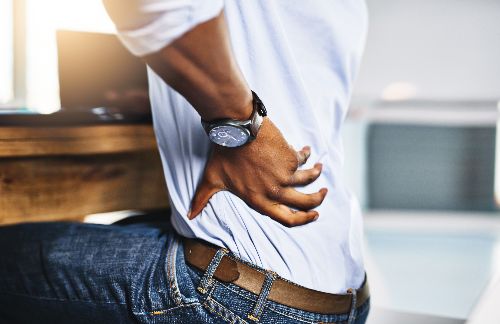 If you suffer from low back pain and are seeking low back pain treatment, then you've likely considered chiropractic treatment as part of your care plan.
This article will briefly discuss chiropractic care, illustrating some of the benefits of chiropractic care and explaining how a good chiropractor can help treat and eliminate lower back pain. Read on to learn more.
What is Chiropractic Care?
Chiropractic care mostly involves manipulation of the cervical, thoracic, and lumber spine. This type of manual therapy restores mobility to joints, which can often become restricted or immobile.
This is due to a number of reasons including but not limited to compression of the spine, repetitive stress such as excessive sitting, poor posture, and muscular imbalances. It's quite easy for the human spine tends to fall out of proper alignment.
Chiropractic care improves health and provides pain relief by putting the spine back into proper alignment.
Back pain, and lower back pain in particular, tends to fall into two categories: acute, in which sudden bursts of pain flare up, and chronic, in which there is a dull, constant ache.
Chiropractic care can solve both issues, improving mobility and strength while also reducing pain and discomfort. A good chiropractor aims to improve quality and range of motion while improving function and eliminating lower back pain.
The Benefits of Chiropractic Care
Consistent chiropractic care has a number of benefits that most people may not know about.
In addition to being one of the best ways to reduce or even eliminate lower back pain, chiropractic care can also:
Boost the Immune System

Improve Digestion

Increase energy by reducing spinal tension and improving nerve function

Lower or stabilize high blood pressure

Improve breathing and resting comfort

Help women have healthier, safer pregnancies
Chiropractic care is about putting the body into a position where it can properly heal itself, thus improving health in a number of different ways. This can include reducing or eliminating lower back pain.
As you can see, there are many other reasons to visit a chiropractor in addition to seeking relief from neck and back pain. Chiropractic care is a safe, natural approach that allows the body to heal itself, and improves health from a number of standpoints.
About Smith Chiropractic
Smith Chiropractic is located at 1825 Main St, Unit C in Colorado Springs CO, 80911. Dr. Ammon Jacobson has been practicing for over 28 years as a chiropractor, and is greatly experienced in lower back pain treatment.
The office can be reached via telephone at (719) 390-5404, and you can also contact Smith Chiropractic online via the company website. Office hours are 9:30 AM – 6:00 PM Monday, Wednesday, and Thursday, and by appointment only on Tuesday, Friday, and Saturday. The office is closed on Sunday.

Posted In: Chiropractic Low Back Pain Treatment