5 Tips on How to Avoid Neck and Back Pain with Computer Ergonomics
5 Tips on How to Avoid Neck and Back Pain with Computer Ergonomics
Written By Smith Chiropractic on December 11, 2019
---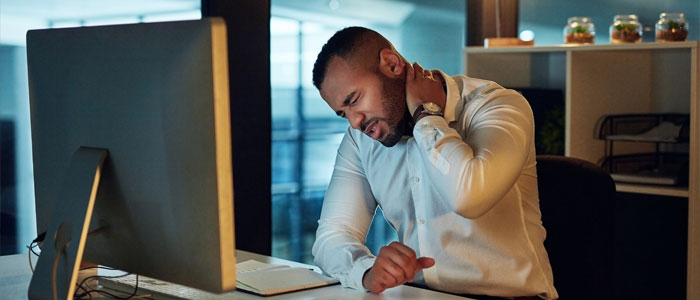 Computer ergonomics, or the manner of fitting your computer set up to your body to minimize physical stress and bad posture, is an important practice for any office personnel or other regular computer users.
The everyday computer user spends an average of 6.5 hours in front of a computer. This is problematic for a variety of reasons.
Bad posture practices such as slumping over your keyboard, bending your neck due to your monitor being too low, or not having an area for your wrists to rest while typing is all detrimental to your posture. These unhealthy practices can cause pain in the neck, back, and arms, which brings on bad posture habits.
5 Tip and Tricks When Using Computer Ergonomics
When setting up your computer station, there are a few concepts to take into consideration. Your sitting area should allow for your overall height, whether using a standard sitting desk or stand-up desk. Your overall height either standing or sitting in a chair, keyboard, and monitor set-up should be situated to your personal height so that you are not stressing your body.
There are 5 main tips regarding computer ergonomics that can help you to practice proper sitting posture while situated at your desk.
Pick a comfortable office chair and sit all the way back.
Make your keyboard, mouse, phone, and other devices easily accessible.
Bring your monitor up to your face height.
Rest your wrists and arms on a soft, stable surface.
Use a keyboard and mouse that best fits you.
Meet the Chiropractor in Colorado Springs to Fix Your Bad Posture Habits
Dr. Ammon Jacobson of Smith Chiropractic, Colorado Springs has first-hand experience on the effectiveness of chiropractic care after being in a motorcycle accident.
Dr. Jacobson offers a fresh methodology to neurological conditions within his chiropractic training. Dr. Jacobson received his doctorate degree from the University of Western States, School of Chiropractic in Portland, Oregon. He continues to extend his knowledge in chiropractic care for his patients through post-graduate training and personal studies.
To make an appointment with Dr. Jacobson, please call Smith Chiropractic at (719) 390-5404 or visit their website.

Posted In: Chiropractic Neck Pain Treatment